d1-server with digital outputs
NEW / DSD READY
The music server allows to listen to all your music from a single storage and with the best possible sound.
The d1-server could also be called network player or streamer.
The d1-server has been designed with the same target as for the Totaldac DACs, to deliver the best sound, over all other regardless of price.
The d1-server is integrated in a d1-digital reclocker which guarantees a low jitter and low noise
with digital preamplifier functionalities such as several auxiliary digital inputs, all de-jittered by the internal reclocker.
DSD files (DoP standard) are accepted on the USB, spdif and AES-EBU inputs and then resent in DSD DoP format or transformed to pcm 176/24 to the spdif and AES-EBU outputs.
"This totaldac pairing was responsible for some of the most convincingly natural and enjoyable music reproduction I've had the pleasure of experiencing in my listening room.
So on a purely sonic level, the totaldac d1-dual DAC and d1-server are exceptional." Michael Lavorgna, AUDIOSTREAM (Stereophile)
"These d1-server + d1-dual or d1-tube set-ups attained a level for PCM and DSD which I not heard before.
The d1-server and its reclocker are absolute key points to get something quite magic at the end.
After this review, the prize "Grand Frisson 2014″ of Audiophile Magazine is obvious:
– for the sound quality
– for the turn-key network solution with very easy set-up
– for the flow of innovations inside" Thierry Nkaoua, Audiophile-Magazine and 6moons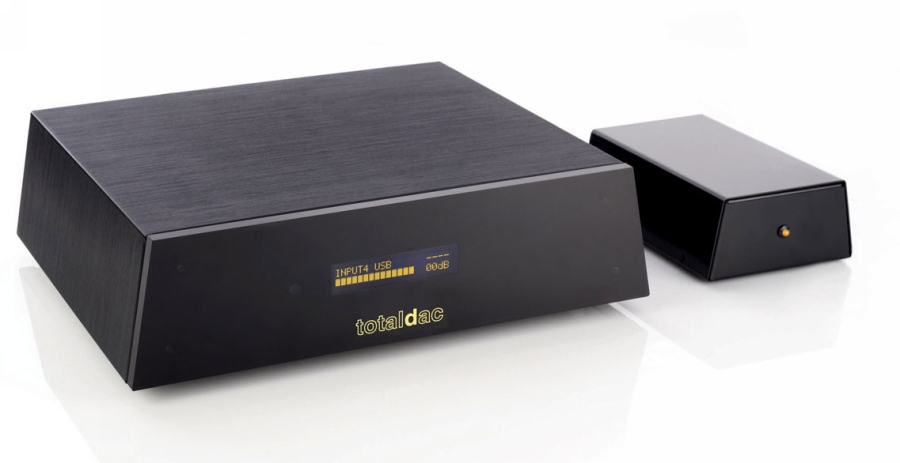 The d1-server has digital outputs exclusively, spdif and AES-EBU, so compatible with most DACs.
It is controlled from an Ipad.
The music storage is external to allow a maximum of flexibility. It can use ethernet discs (NAS) or USB discs .
The music files are ripped or copied from another computer to the external discs.

Embedded reclocker interfaces:
-192KHz asynchronous Xmos USB, RCA, optical and AES-EBU digital inputs, selectable from a remote control.
-44.1KHz, 48KHz, 88.2KHz, 96KHz, 176.4KHz and 192KHz, 16 to 24 bit formats supported on all inputs except 96KHz max for optical input.
-DSD (DoP standard) supported on the USB, AES-EBU and spdif inputs.
-an custom DSD to 176.4KHz/24 pcm can be activated or disactivated from the remote control.
-AES-EBU and spdif (RCA or BNC) digital outputs, only one of these outputs must be used at the same time.
-embedded custom clock with anti-jitter FIFO memory.
-69bit digital volume control, adjusted by a remote control and an OLED display. The remote control receiver can be disabled by a switch to dedicate the remote control.
-bit perfect signal path when the volume is set to maximum (0dB).
-phase polarity selected by remote control.
-display switched off by remote control or automatic.
-all unused inputs are completely disconnected (including the ground) to keep the optimum noise floor even when several sources are connected.
-external power supply to minimize the noise.
-aluminium and PMMA enclosure.
-power consumption 20W.
-dimensions: height 110mm, width 360mm, depth 290mm.
-power supply dimensions: height 65mm, width 122mm, depth 180mm.
-weight: 4kg.
Computer type interfaces:
-1 ethernet port which must be connected to a Wifi/ethernet router for the control from an Ipad via WIFI.
It gives also access to the distant network hard discs (NAS).
Those who wish can use a computer without WIFI as a remote control via ethernet instead of a tablet via WIFI.
-1 USB2 port as an audio output to the embedded reclocker.
-1 USB2 port for an optional external disc.
-1 HDMI output, not used by the pre-installed MPD player (but can be used with XBMC player, not supplied).
Technologies:
The d1-server is composed of 5 key elements:
-the Totaldac d1-digital reclocker. It generates the spdif et AES-EBU, recognised for its sound quality.
-The 800MHz ARM based Cubox mini computer, a tiny and very low consumption computer, which generates much less electromagnetic pollution than a bigger computer.
This mini computer is completely shielded. Its software can be updated by simply changing the microSD card easily accessed on the back panel.
-A 5V ultra low noise power supply, herited from the d1-dual DAC design.
-The music player MPD running here under linux RT (real time), found to be best operating system for the sound quality after listening tests.
It is not necessary to have Linux knowledge to install and use the server, the tablet is the only interface for the user.
The music library is usually copied and organised in the NAS or in the USB disc using a Windows or MAC computer.
-The Totaldac USB cable/filter, recognised and tested in many different environments (this is an option).
Audio files:
.flac
.wav
.aiff
.ALAC Apple Lossless
.dsf (DSD)
.dff (DSD)
.AAC (lossy)
.ogg (lossy)
.mp3 (lossy)
compatible applications:
MPAD for Ipad and Ipad mini
MPoD for Iphone
internet radios via Airplay
streaming such as Qobuz and Deezer via Squeezbox / LMS / Ipeng8
upnp/DLNA compatible for many applications on Ipad or Android
Available options:
-silver massive aluminium front panel.
-115V or 100V power option.
-BNC coaxial digital input and output instead of RCA.
-custom made conical feet, made of anodised aluminium, on demand only.
-NAS (network storage), fanless, with 2TB of SSD, totally silent, with custom power supply, installed and pre-configured (you can connect several NASs).
-high performance 25cm USB cable/filter.
-high performance 2m ethernet cable/filter.
Back panel: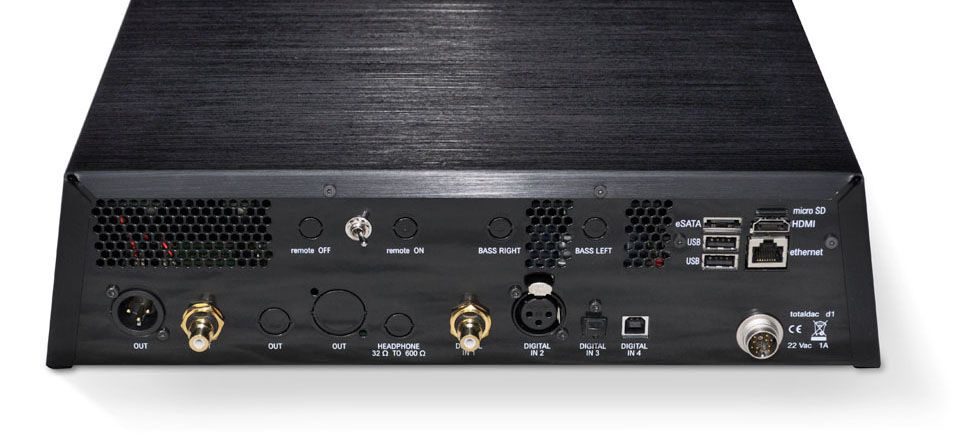 Inside: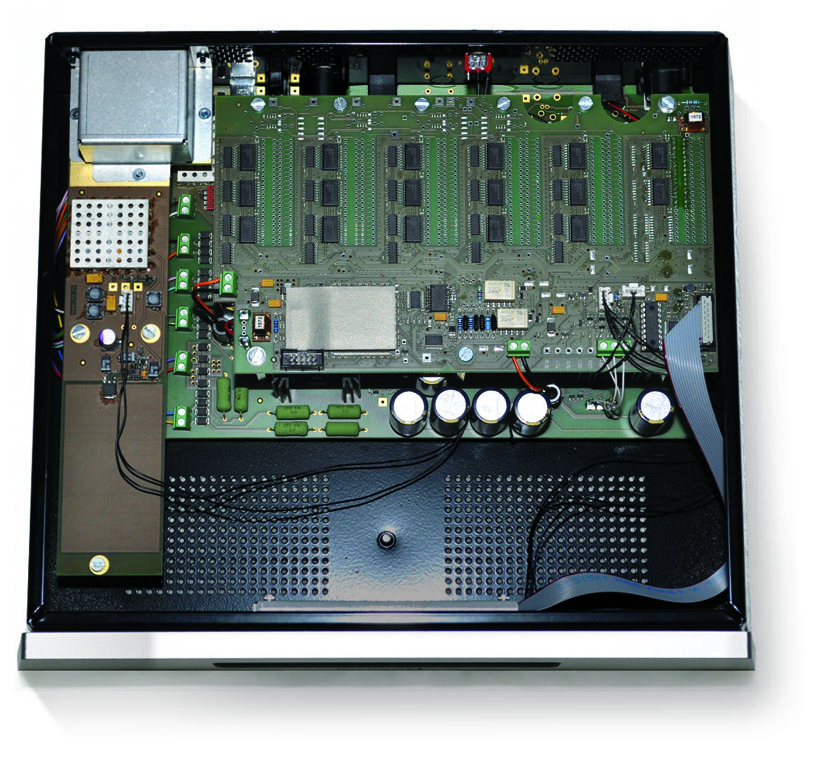 Silver option: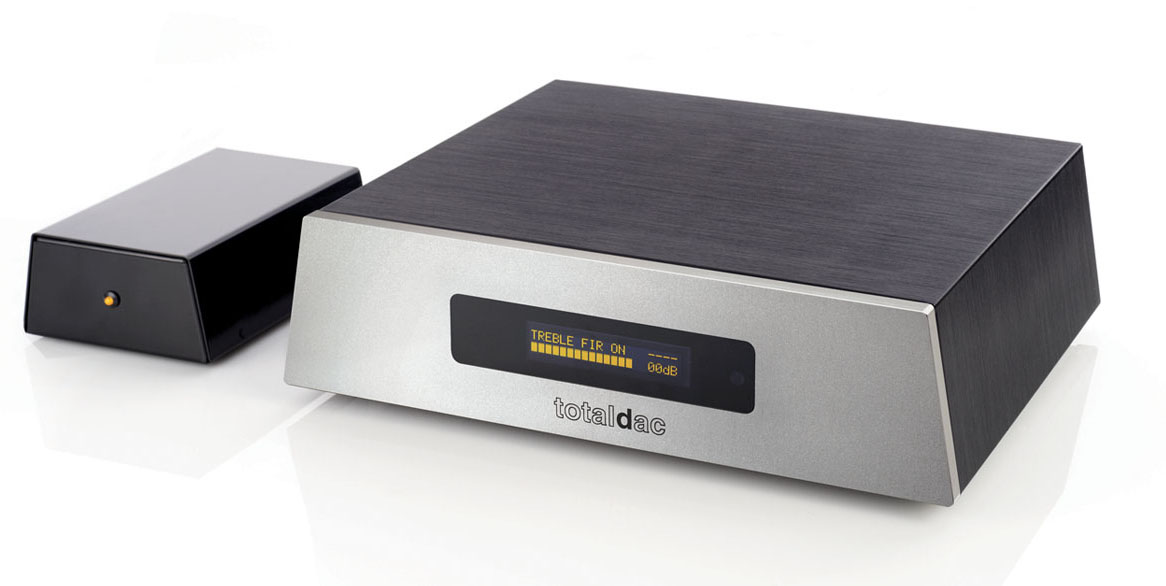 MPaD interface for Ipad:
User's guide
You can download the user's guide here: